The Archer Store supplies players with common Ranged gear they will need to train their Ranged level. This shop is mainly for beginners or players in need of low-cost Ranged supplies. The Range shop is owned by Lowe. 
Accessing the Shop
Lowe is in many places, but the Grand Exchange (::market) is a preferred way to reach him.
Teleport to ::market.
Speak with Lowe to access the Archer Store.
Feel free to purchase anything from his shop!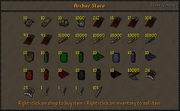 Notes
Ad blocker interference detected!
Wikia is a free-to-use site that makes money from advertising. We have a modified experience for viewers using ad blockers

Wikia is not accessible if you've made further modifications. Remove the custom ad blocker rule(s) and the page will load as expected.