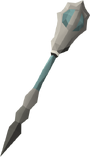 The Chaotic Staff is a pristine Magic weapon due to the high bonuses it offers. It requires 80 Dungeoneering and 80 Magic to wield. It costs 200,000 (200k) Dungeoneering tokens to purchase, This staff will degrade after approximately 10 hours of use, but can be repaired by using it on the Weird Old Man in Lumbridge. This item can be lost on death in PvP.
How to Obtain
The Chaotic staff is available from either the credit shop, or the Dungeoneering Master's token shop. Other methods to obtain the Chaotic Staff include Mystery boxes.
Application and Uses
The Chaotic staff is one of the best Magic staves on Soulsplit; and as a result of this, players tend to use the Chaotic Staff over other existing staves. The Chaotic Staff gives players a great edge in PvP, if the player is willing to risk it during the fight. Combined with the Ancient Spellbook, the Chaotic Staff is destructive in PvM activities as it increases the damage of spells by a considerable amount.
The Chaotic Staff is also unique in the fact that it has an extremely high Crush bonus for a staff. The Chaotic Staff is the best Crush-style weapon in-game for any player with an Attack level of 1 to wield. This staff is usually desired by a number of 'pures' due to this reason. It can also be used as a cosmetic item to go with some outfits. 
Combat Stats

| Class | Slot |
| --- | --- |
| | |

Bonus
Attack
Defence
Stab
-
+5
Slash
-1
+7
Crush
+65
+4
Magic
+18
+18
Range
-
-
Special bonuses
Strength
+72
Prayer
-
Trivia
The Chaotic Staff cannot be picked up after death, even if you're a member.
The Chaotic Staff degrades.