Giles
Members NPC?
No
Quest NPC?
No
Appears in
No
Gender
Male
Sells items?
Supplies
Examine text
The brother of Niles and Miles.
Giles is a NPC found at the armor store in east Varrock, Falador, and Lunar Isle. He sells supplies alongside his brothers Miles and Niles. He and his brothers sell supplies such as potions and equipment that can transport you around SoulSplit, while also stocking basic pure clothes. 
The 3 brothers Miles, Niles and Giles all have the same supplies in each store.
Stock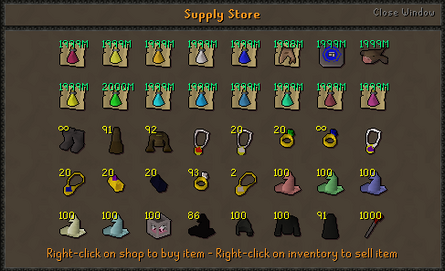 Ad blocker interference detected!
Wikia is a free-to-use site that makes money from advertising. We have a modified experience for viewers using ad blockers

Wikia is not accessible if you've made further modifications. Remove the custom ad blocker rule(s) and the page will load as expected.