Oziach is an NPC that is most commonly associated with PvP. Found in Edgeville, he hosts the Wilderness Rewards shop, as pictured below. Points received from Player-killing can be spent at Oziach. The cheapest reward is the Morrigan's Javelin, which sells at just 25 Wilderness points each. The most expensive is the Antique lamp, at 7000 Wilderness Points.

Wilderness Rewards Shop: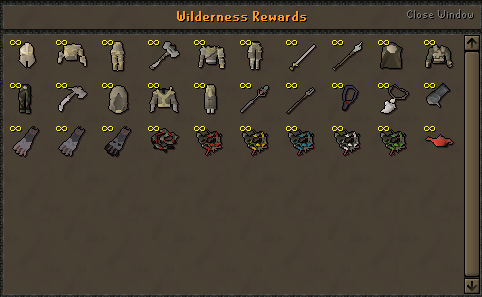 Oziach is also a target NPC of the Treasure Trails "Riddle" clue scrolls. The clue "A strange little man who sells armor only to those who've proven themselves to be unafraid of dragons." can be given to him to continue the Treasure Trail.
Ad blocker interference detected!
Wikia is a free-to-use site that makes money from advertising. We have a modified experience for viewers using ad blockers

Wikia is not accessible if you've made further modifications. Remove the custom ad blocker rule(s) and the page will load as expected.