The Slayer Caves, is an area accessible in SoulSplit that contain several low-leveled Slayer monsters.
The caves are composed of a single floor in which monsters of varying low combat levels have managed to call their homes. You can get to Slayer Caves via the Dungeon teleports on the 2nd page. 
The southern sections of the Slayer Caves are virtually empty; the vast majority of monsters roam along the northern sections of the cave.
Mapping the cave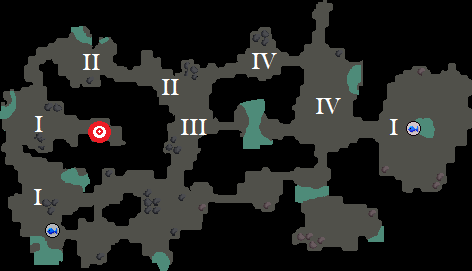 | Icon | Monster |
| --- | --- |
| Target icon | Spawn Point |
| I | Cave bug (Level 6) |
| II | Cave slime (Level 23) |
| III | Cave crawler (Level 23) |
| IV | Rockslug (Level 29) |
Additional Information
The former Slayer Caves were divided into three separate floors differing in difficulty of monsters; the former caves also contained 40 species of monsters in total.
Players often tend to call the Slayer Caves the "Slayer Dungeon" as it was the cave's original name.
The Slayer Caves share layouts with the Lumbridge Swamp Caves in Runescape.
Ad blocker interference detected!
Wikia is a free-to-use site that makes money from advertising. We have a modified experience for viewers using ad blockers

Wikia is not accessible if you've made further modifications. Remove the custom ad blocker rule(s) and the page will load as expected.