Home
Talk

0
750pages on
this wiki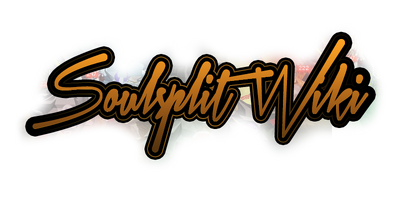 750 articles and 28,327 edits since September 30th, 2012.
Welcome to the Soulsplit Wiki, and thank you for your contributions! We invite you to log in and create a user name here.
Join the community in building the perfect resource for all of your Soulsplit-related information. Each edit counts and could provide the information that other people may need! So, please, whether it's a small edit or an entire page, we appreciate it and hope for more!
If you have any questions regarding this wiki's format, please check the style guide before posting on the forums or contacting an admin.
Soulsplit is a RuneScape private server with an endless amount of playable content. It satisfies everyone from the monster killing community to the player killing community. Soulsplit brings you back to the enjoyable era of pre-EoC combat and features a great community that not many can accurately claim.
If you want to hop right in and start playing, click here.
Want to join the wiki team? We're accepting applications! To apply, you must fill in the application format in the Wiki applications section of the forums.
Join the community in group discussions on the Soulsplit forums.
Soulsplit would be nothing without your support. Vote for Soulsplit as your favorite RuneScape private server!
Curious about in-game prices? Check the website's market app!
Are you an xp junkie? Do you want to know how you stand on the current highscores? Check the Soulsplit website's highscores app for every game mode's highscores table.
Soulsplit News
 Staff updates:
25th August 2014
Resignation:
Dat Molly has resigned from Helper to Player.
24th August 2014
Promotion:
Stxrm has been promoted from Player to Jr. Forum Moderator.
Demotions:
Littlee has been demoted from Jr. Forum Moderator to Player.
Collerkar76 has been demoted from Jr. Forum Moderator to Player.
Resignation:
Karil Votek has resigned from Administrator to Player.
22th August 2014
Resignation: Jackie has resigned from Forum Administrator to Player.
21th August 2014
Resignation: Commander Z has resigned from Moderator to Player.
17th August 2014
Promotions: Collerkar76 has been promoted from player to Junior Forum Moderator.
Littlee has been promoted from player to Junior Forum Moderator.
Game Updates 15th August 2014
Agility
Skillcape emotes can no longer be performed while using an obstacle.
Extreme energy loss will no longer occur
Renevants
Now spawn with the correct health
Aggressive range changed to two tile lengths
Teleblock chance reduced to 4%, Teleblocks should be carried out by renevants level 90 and above.
Teleblock timer is now @ 60/33 seconds respectively.
Tormented Demons
Now in the true tormented lair
Can now fight at a distance rather than only using melee.
Also to be noted:
Teleblock now lasts for 5 minutes without protect from magic, and 2.5 minutes while using protect from magic.
You can no longer pickpocket your mastered NPC
Resetting your title will now properly update your character
You can no longer send blank messages ingame or in a clan chat
Can now use Degraded items on Bob in south Neitz.
Removed repair Barrows option on Wierd old man. (you now use items on him)
Fixed 500 kills requirement for The Completionist title
Fixed incorrect minigame armour requirement for the Overlord tag
The price of the clan tag is now visible and will show an error when you don't have enough loyalty points to purchase the tag.
All players can now purchase a clan tag, regardless of their player tag.
Messages that appear when you kill someone will now capitalize the user's name
Players who purchased 'The Completionist' title when it had bugged requirements will be refunded with 27500 loyalty points and their title will be removed upon login (only if they don't fit the new requirements
Added staff of light, combat robes, and battle robe effects.
Fixed a few problems with unaggressive npcs.
Fixed non-wildy familiars bug.
Content


Latest Activity
Opinion Poll
How well is the Wikia updated?
Twitter
Tweets by @SoulsplitDotCom