The
Zamorak Godsword
is a two-handed sword that requires 75 Attack to wield. It is the result of the combined potential loot found within the
God Wars Dungeon
, requiring the combination of a
Zamorak Hilt
and a completed
Godsword Blade
. Tied with the
Bandos Godsword
,
Armadyl Godsword
, and
Saradomin Godsword
, it carries one of the highest damage bonuses, only surpassed by the
Vesta's Spear
and the
Chaotic Maul
.
Combat Stats

| Class | Slot |
| --- | --- |
| | |

Bonus
Attack
Defence
Stab
+0
+0
Slash
+132
+0
Crush
+80
+0
Magic
+0
+0
Range
+0
+0
Special bonuses
Strength
+132
Prayer
+8

Player wielding the zamorak godsword
Special Attack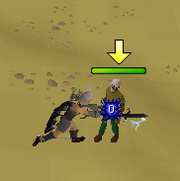 The Zamorak Godsword has a Special Attack, known as
Ice Cleave
. When successfully hit, it will freeze the opponent for 20 seconds, much like an Ice Barrage's effect. However, if you are standing adjecent to the opponent, they can still attack you. The damage caused by Ice Cleave is also increased by 10%.

Although not commonly used in PvP, some may use Ice Cleave to restrain their opponent, and then proceed to use Range to attack them at a safe distance.
How to obtain
Purchasing it from Soulsplit's Credit Shop for 4,000 Credits.
Reclaiming a Reward token and getting is as a rare prize.
Combining a Zamorak Hilt with a completed Godsword Blade.
A reward from opening a Mystery box.
Trading with other players.
Trivia
Like any other Godsword, one can disassemble it and reassemble it.
It has the exact same stats of all other Godswords.
Players use the Zamorak Godsword as a substitute for casting Ice Barrage at times.
Ad blocker interference detected!
Wikia is a free-to-use site that makes money from advertising. We have a modified experience for viewers using ad blockers

Wikia is not accessible if you've made further modifications. Remove the custom ad blocker rule(s) and the page will load as expected.